This website is reader-supported. When you buy through links on our site, we may earn an affiliate commission.
Best Electric Snow Shovel
These are the 8 best electric snow shovels based on product quality, customer satisfaction, and price: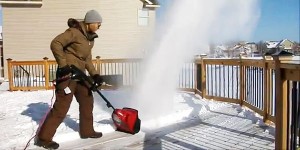 Even when you have a really short driveway, or else just a little walkway and patio or porch, keeping it clear of snow all winter long can be a lot of work if you are just doing it by hand with a shovel. This is true whether one inch or ten inches falls. Even with a light accumulation, clearing snow can be difficult work that leaves your shoulders and back aching from the effort. For that reason, an electric snow shovel can be a really great investment. With one of these machines on your side, you will never have to throw another shovelful of snow again. An electric snow shovel does all of the work for you.
All you have to do is push the electric snow shovel along in front of you, and it will throw snow up to twenty feet away. This means that in almost no time your deck, patio or driveway will be completely free and clear of snow. And your shoulders and back will not need a hot water bottle afterwards. Electric snow shovels take all of the work out of keeping your property clear of snow. And they are light enough that anyone can use them, even my fellow senior citizens, to easily and quickly clear snow from porch steps as well.
And electric snow shovels are small enough that you do not have to keep them out in the garage, the way you would have to with a bigger, bulkier snow blower. In fact, you can keep an electric snow shovel conveniently at hand in your closet or front hall, where it will not get in the way but will always be ready to allow you to start clearing snow right out the door. That way you do not have to tramp out to the garage through several inches of snow – you can clear a path from your front door to the driveway with no problem.
Now, here is the million dollar question: how can you determine whether or not the models you are looking at are really the best electric snow shovels on the market? There are a whole lot of different brands and models out there, and it can be pretty difficult to separate the best ones from the rest of them. But there is no reason it has to be. There are a number of pretty basic characteristics that are going to determine whether or not a machine really is one of the best electric snow shovels money can buy.
Fortunately, there is not too wide of a price range for electric snow shovels, and even the most expensive ones fall well within what most people would consider very affordable. For that reason, you are not going to have to spend a whole lot of money in order to ensure you are getting the best electric snow shovel out there. In fact, because the price range is so low, there is no reason not to make sure the model you do buy is the very best.
1. Best Electric Snow Shovel Characteristics
1a. Widest Clearance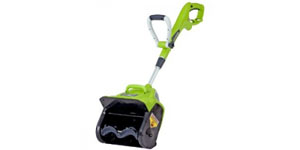 The whole point of buying an electric snow shovel is because it will be able to do all of the work of clearing off your driveway, sidewalks or deck, and you want to make sure you have a machine that can do that work as quickly and efficiently as possible. And there is only one way that your electric snow shovel is going to be able to do that. You need an electric snow shovel that has the widest possible clearance, and you should cross any prospective models off of your list that do not have extra wide clearances.
That is because when you are out in the elements clearing snow, you want to spend as little time as possible doing it. Winter weather is treacherous: with subzero temperatures and serious wind chill factors, being exposed to winter storms can be downright dangerous. The less time you spend getting your driveway cleared of snow, the better. And the only way you can make sure you are clearing snow in as little time as possible is to have a wide clearance on your electric snow shovel.
Wider clearances save you time because you can clear an area in fewer passes. And with smaller machines like an electric snow shovel, a few inches can really make a big difference – more than you might think. An electric snow shovel with a fourteen inch clearance width is going to save you a lot of time over one with a ten inch clearance width. Even if you are clearing a short driveway, those inches add up; and when temperatures are below zero and you need to get back indoors quickly, every minute really does count.
So do yourself a favor and start narrowing down your list of the best electric snow shovels by getting rid of any that do not have a clearance of at least twelve inches. Anything less is simply unacceptable. You should also make note of how wide the overall dimensions of the machine are relative to the clearance width. Some electric snow shovels have overall dimensions that are significantly wider than their clearance width. This can present problems if you are clearing snow near a fence or wall, and especially if you are clearing off your porch stairs. You do not want a strip of snow a few inches wide against the kickboard of each stair, as this can present safety problems.
1b. High Snow Cut Depth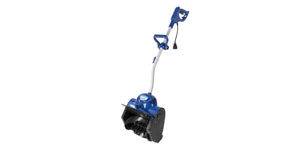 As you are probably quite aware, electric snow shovels are not designed to handle serious, heavy accumulations of snow fall. For obvious reasons, there are limitations to the depth of snow these machines are able to deal with, and that means they will not be very effective if you live in an area that gets hit with blizzards frequently, even if you are just clearing a very short driveway. They do not hold up under severe weather conditions. But if you live in an area that gets fairly light or moderate snow fall through the winter, then an electric snow shovel is just right for the job.
But just because electric snow shovels have limits to how deep snow can get, there is still no reason to settle for a model that does not have a snow cut depth that is on the highest end of the range. The best electric snow shovels are still going to have snow cut depths that will be guaranteed to take care of heavy snow accumulations of at least six or seven inches. Any electric snow shovel that does not have a snow cut depth that is not in this range should be crossed off your short list right away.
It does not matter if you live in a region of the United States that has not had a serious blizzard in fifty years – or ever. In the last decade, severe weather emergencies have begun to get more and more common, and there are many regions of the country that are experiencing weather events that were completely unheard of just twenty or thirty years ago. Because of that, you should make sure that you are prepared for a bit more than the occasional light dusting of snow.
That does not mean you have to go out and buy a snow blower, of course. But you should get an electric snow shovel with a snow cut depth that will be ready for serious, heavy snow fall. This will also be useful in the event that you are indoors over a long holiday weekend and it snows more than once. A couple of light accumulations can quickly add up to four or five inches, and without an electric snow shovel that has the kind of high snow cut depth that can handle that kind of height, you could be in serious trouble and back to using the old manual snow shovel. You don't want that.
1c. Compact & Lightweight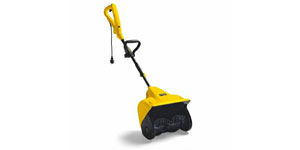 One of the major advantages electric snow shovels have over other clearing machines – snow blowers, to be specific – is that they are so compact and lightweight. That means that you can actually keep them in the house, and they will always be available but never get in your way. This is really useful, especially when it is freezing cold outside and snow just keeps coming. You will not have to make multiple trips to the garage in the cold and snow. Instead, you can plug your electric snow shovel in to any household outlet close to the patio door and start shoveling snow right from the doorstep. That's pretty neat, right?
But just because electric snow shovels are smaller than other snow clearing machines does not mean they will not necessarily be bulky or heavy all of the time. There are plenty of electric snow shovels that are a lot heavier than they need to be – and frankly I do not understand why. One of the things that make these machines so convenient is their light weight and compact size. If you are a senior citizen, you will definitely understand the importance of having tools that are of a manageable size and weight, because if it is too big or heavy it is pretty much useless.
The best electric snow shovels are going to have the kind of compact overall dimensions that will allow you to tuck them into a hall closet and not give them a second thought until you start to see the first flakes of snow start to fall. That is the best in convenience – it's out of sight and out of mind when you do not need it, and right there at your fingertips the moment you do need it. When you are narrowing down your list of the best electric snow shovels, get rid of any that are needlessly big and bulky.
And while you are at it, get rid of any electric snow shovels that weigh more than you think you can comfortably lift. This is especially important if you intend to use your electric snow shovel to clear off porch stairs, because you will have to be lifting it from one stair to the next. There is no compelling reason why an electric snow shovel should weigh more than twenty pounds at the most, and they should really clock in at no more than fifteen.
1d. Convenient Design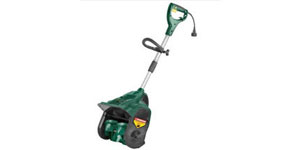 Since the best electric snow shovels are designed to take all of the work out of keeping small areas clear of light snow fall, they should not only be efficiently made, but they should also be made in such a way that they are comfortable to use. One of the best arguments for switching to an electric snow shovel from a manual one is because of the strains and aches you can be at risk of when you are using a manual snow shovel. That activity sends thousands of people to the hospital every winter in the United States. So if you are switching to an electric snow shovel, you should not have to worry about injuring yourself or straining your back or shoulders.
But unless your new electric snow shovel is ergonomically designed, you may still be at risk for backaches and shoulder strain when you are using it. This is because there is still some work involved in using an electric snow shovel: you have to maneuver it around your patio or driveway, and you will be doing a lot of the pushing, although the auger should do some. If the electric snow shovel is not designed to protect the operator, you can wind up with lumbar soreness.
The handle on the electric snow shovel should be adjustable so that it can accommodate a range of different users. If you are forced to hunch over the handle to operate the snow shovel, you are almost certainly going to have muscle soreness in your shoulders and neck. The best electric snow shovels have more than one handle as well. Having an extra handle on the front of the snow shovel will help make it much easier to operate, so cross any off your list that do not provide an extra grip.
Handles that are designed with a curve instead of coming straight towards the user from the base of the electric snow shovel will also go a long way to protecting you from back strain. This is an amazingly simple design feature that has a major effect on the overall ergonomics of the machine. That is because it allows for a more comfortable stance while you are pushing the electric snow shovel forward, and also allows you to get more distance while applying less force, so you do not have to push the shovel as hard. Look for features like these, and your back will thank you.
1e. Other Considerations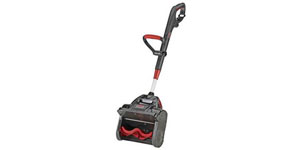 All right, let's do a quick review. Your list should be pretty short at this point, and it should only have electric snow shovels with wide clearances and high snow cut depths. The shovels should all be compact and lightweight, and they should be designed to be as comfortable and ergonomic as possible. We are pretty close to finding the best electric snow shovel on the market. In fact, the models left on your list will almost certainly be some of the best ones money can buy. At this point, it is time to get into the nitty-gritty: small design notes and extra features that separate the very best electric snow shovels from the others.
One very convenient design feature is a locking mechanism that can prevent the extension cord from getting pulled out of the electric snow shovel while you are using it. It can be very frustrating to have a heavy extension cord simply drop away from the plug while you are in the middle of clearing your driveway. A simple plastic hook is really all it takes to keep this from happening, and small design features like that are a good indication that the manufacturer put some thought into making sure your experience using their electric snow shovel as convenient as possible.
It can be hard to find them, but there are some electric snow shovels that have headlights. Even a small LED headlight is going to make a lot of difference if you are clearing off your driveway or walkways after dark. A porch light will help some, but what you really want is a headlight aimed directly where you are going. The very best electric snow shovels will have them.
The body should be made of durable materials: the vast majority of electric snow shovels are made of plastic materials, and that is fine, since they are designed to handle fairly light jobs. But make sure your electric snow shovel's body is made of durable, thick plastic. The handle should be metal, however. The auger will most likely be plastic, but the design of it is important. The best electric snow shovels will have curved dual augers that work together to clear snow faster.
The shovel should have a high throwing distance – at least twenty feet. Even if you are clearing a short driveway, you want a throwing distance that is long enough to make sure you do not have to go over the same snow twice.
These are the 8 best electric snow shovels based on product quality, customer satisfaction, and price: