This website is reader-supported. When you buy through links on our site, we may earn an affiliate commission.
Riding Lawn Mower Reviews
These are the 8 best riding lawn mowers based on product quality, customer satisfaction, and price:
Riding lawn mowers are known under several names: lawn tractors, garden tractors, riding mowers, ride-on mowers or even mini-tractors.
These particularly comfortable lawn mower will be right for you if your lawn is 3/4 of an acre or more. The fact that they're self-propelled and you're sitting on top of it makes them particularly suitable if you have a hilly yard, a big yard or if for any reason, mowing your lawn is too exhausting for you.
With a lawn tractor, you will most likely need only a single pass to cut your grass blades to the height you'd like because the're particularly effective at cutting grass.
You have to realize that these lawn mowers are basically small vehicles with 4 wheels and one seat that you drive around your lawn. You could think of them as a cross-breed between a tractor and a golf-cart.
The biggest models in this category, usually called garden tractors, will allow you to do more than just mowing your lawn. With these, you'll be able to move heavy loads around your garden, or even irrigate your garden. Some specific models can also be combined to a snow blower or a big rake.
Riding lawn mowers come with a lot of pros. Unfortunately, the biggest cons is the price tag. To help you make the right decision by buying a riding lawn mower that will be perfect for you, I've put together some very detailed riding lawn mower reviews.
1. Riding Lawn Mower Selection Criterias
1a. Deck Size / Cutting Width
There is a direct correlation between the deck size (cutting width) of your riding lawn mower and the time you will need to mow your whole yard. The wider the deck, the quicker you'll be done with your mowing task.
For riding lawn mowers, the deck size is usually between 38 and 46 inches. To make sure you don't spend too much time mowing your lawn, I would advise you to pick a lawn mower with a deck size of 42 inches or more, if your yard is around 1 acre.
If your yard is around 2 acres, a lawn mower with a 46 inches deck will allow you to be done in a decent amount of time. In some very specific cases or if your yard is bigger than 2 acres, you can find some riding lawn mowers with even bigger decks.
1b. Transmission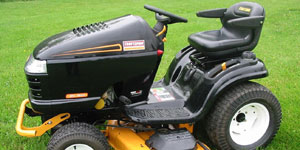 As with cars, when making your lawn mower selection, you can pick between manual and automatic transmission. Let's be honest: automatic transmission will make your life a lot easier. However, I'll still be writing about manual transmissions because I know some people who prefer having a better control over their speed.
Don't get confused when browsing riding lawn mowers: there are many different terms to describe transmission systems. For example, with transmatic you don't need to clutch. Auto-Drive is another name for automatic gear shifting (this is the system most people are familiar with).
There is also a third transmission type called Hydrostatic that is coordinating your speed with the pressure on the gas pedal, giving you good control and maneuverability.
1c. Engine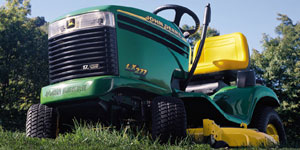 Engine is an essential part of your riding lawn mower. Essentially, a riding lawn mower is only as good as its engine, so you have to be very careful when picking your new lawn mower.
Usually, there are 2 types of riding lawn mowers' engines: single OHV and V-twin OHV. Single cylinder OHV will generate less vibrations when operating and will stay cooler (thus avoiding over-heating issues).
On the other hand, V-twin OHV will deliver more power allowing you to cut your way through thicker grass like a breeze. The driving will also be a lot smoother and reliable. It's also important to note that V-twins will usually last longer than single cylinders when properly cared for.
1d. Fuel & Maintenance Indicators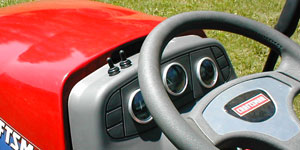 Having a riding lawn mower is a very good thing if you're looking for something comfortable. But an important thing to do is keep your lawn mower well-maintained so it will last a lot longer.
In order to keep your lawn mower in the best condition possible, you should consider buying a model that comes with a complete dashboard with fuel tank, oil and battery life indicators.
Thanks to these indicators, you'll be able to keep an eye on the internal condition of your lawn mower. This way you can always stay ahead of any problem.
1e. Cutting Height
Speaking about comfort, being able to adjust the blade's cut height will make your life a lot easier.
Some recent models come with the ability to adjust the height with the push of a button or with a simple lever.
Both these systems will allow you to mow even in the most difficult spots even if the landscape is very hilly or uneven.

The Husqvarna YTH23V48-CA is a riding lawn tractor that has a 48 inch wide cutting deck with three cutting blades made of durable steel. The cutting deck features an innovative air induction technology, which is designed to improve airflow inside the cutting deck so that grass blades are pulled up to their full height before [...]

The Poulan Pro PB17542LT is a quality lawn tractor manufactured by a company with a great reputation for excellence and performance in its yard and garden products. It has a number of excellent features that make it a good purchase for the homeowner who has more than 1/2 an acre of grass that needs cutting. [...]

The Poulan PO17542LT has many great features that are designed to optimize performance and reliability. It has a Power Built series Briggs & Stratton engine that provides a full 17.5 horsepower. The engine is 500 cubic centimeters, and it is designed by one of the best manufacturers in the industry. In addition the lawn tractor [...]

The Husqvarna YTH2042 has lots of great features that ensure you get reliable performance from it. It has a best in class Briggs & Stratton engine that provides a full 20 horsepower. The engine is the Briggs & Stratton's Intek series, and it is a powerful 540 cubic centimeters. Along with the tuff Torq hydrostatic [...]

The Weed Eater WE-ONE is a compact personal riding mower with a Briggs & Stratton 975 OHV Series 190cc engine. It has a gas tank that holds 0.3 gallons, enough for the majority of medium sized lawn care jobs, and it has a convenient electric start – all you have to do is turn a [...]
These are the 8 best riding lawn mowers based on product quality, customer satisfaction, and price: