This website is reader-supported. When you buy through links on our site, we may earn an affiliate commission.
Best Riding Lawn Mower
These are the 8 best riding lawn mowers based on product quality, customer satisfaction, and price: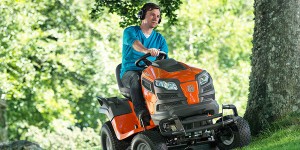 A big, wide lawn sweeping away from your house is just about every homeowner's pride and joy.
Well kept lawns create a landscape that ties the house into the surrounding community, and these uniquely American landscaping features are really a beautiful thing to behold. Not only are they aesthetically pleasing, lawns serve important functional value as well: this is where our kids play, where we relax and have cookouts with our friends and family, and how we can show that we care about our place in the community.
But when you have a big lawn, keeping it looking beautiful can be a lot of work. For this reason, lawn care is an industry that is worth over a billion dollars. Americans spend countless hours every summer keeping their lawns looking beautiful – I know I do. Between seeding, sodding , weeding and watering there is a lot to do, and I haven't even gotten to mowing. This is where we can really make our lawns shine. There is nothing like the look of a lawn that is well manicured, with its orderly lines and even finish. And these days, you can get a professional look for your lawn without having to pay a professional to do it. The trick is to find the right lawn mower to do it.
When you have a very big lawn, a walk behind lawn mower just is not going to cut it. These machines do not have the kind of cutting decks that are wide enough to efficiently get the job done. There is nothing worse than sweating behind a push mower as you go back and forth over your lawn for close to an hour in the hot summer sun. And frankly, there is no reason you have to do so. With a riding mower, you can immediately address two of the main things about walk behind mowers that make using them so much work.
The first is obvious – with a riding mower, you do not have to do any walking! You just hop into the comfortable driver's seat, start up the machine, and you're off. It's just about as easy as driving a car, literally. The second reason is because riding mowers are big enough overall and have powerful enough engine to support bigger cutting decks than walk behind mowers can.
But it can be difficult to figure out which riding mower is best for you. There are so many different brands, types, and sizes, with a relatively broad range in prices that selecting the perfect one for keeping your grass looking perfect can be a challenging task. But there are a few characteristics you can look for in a riding mower that will quickly indicate whether it is a quality machine or a piece of junk. By looking at the model's cutting deck, checking under the hood, looking at the degree of convenience in its design, assessing the quality of its craftsmanship, and checking a few other things, you can determine whether a riding mower is a good one or not in a matter of minutes.
1. Best Riding Lawn Mower Characteristics
1a. Extra Wide Deck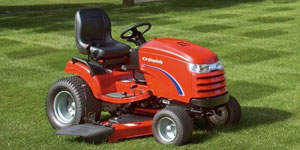 A riding mower is designed to provide superior cutting ability to a walk behind lawn mower, and one of the most important ways it does so is by supporting an extra wide deck that can cut a bigger swath of grass on a single pass. The wider decks on riding lawn mowers allow you to finish cutting a big area of grass in far fewer passes than you could with even the biggest walk behind mowers, and this is one of the main reasons homeowners choose these machines.
By cutting down on the number of passes it takes to cut a big area, a riding mower can save you a considerable amount of time – and the bigger the area, the more time you save with a nice big deck. The same is true on the other side of the equation: the bigger the deck, the more time you save on a big lawn. Because of that, it makes perfect sense that you would want to find a lawn mower with the biggest possible deck that is still reasonably within your budget.
Riding mowers and lawn tractors tend to have deck sizes that range from about 36 to 42 inches. That is a big swath to cut through the average American lawn, and will ensure you are able to finish the job in less time and get back to relaxing and enjoying the rest of your short weekend with your family and friends. In my opinion, the cutting deck width is probably the most important feature to take into consideration when you are comparing two similar riding mowers. This feature alone is going to determine the cutting prowess of a given machine.
While riding mowers with wider decks are often going to be a bit more expensive than those with smaller ones, the extra inches are going to pay for themselves before you know it. Because you will be spending less time cutting the same area of lawn with a riding mower that has a wider cutting deck, you will not be using the riding mower as long. This not only saves gas – which these days seems more expensive than ever – it will also help to extend the overall life of the machine as well. Blades need sharpening after a certain number of work hours; a riding mower with a 42 inch blade will last 15% longer than one with a 36 inch blade before it needs to be sharpened.
1b. Solid Engine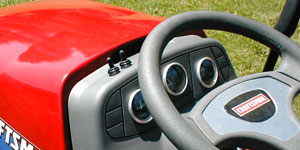 Once you have narrowed down your search to a few machines with comparable deck widths (no more than two or three inches difference), it is time to look under the hood. You want to make sure your riding mower has the kind of engine that is going to provide reliable power and performance over the long term. Combustion engines come in different shapes, sizes, and designs, and you want the best kind you can find for your money. That is because the engine is going to have a major influence on how well several other components of the machine operate. The engine provides all of the power to the cutting deck, and a more powerful engine will be able to give the blades on the cutting deck a much higher tip speed. Tip speed is how fast the blades are going at their farthest edges: a higher tip speed results in a much cleaner, more even cut and reduces the need for going over the same area more than once.
The engine is also providing all of the torque that propels the variable rear-wheel drive. Because you presumably have a lot of ground to cover, you want to be able to do it as quickly as possible, and one major aspect of that is how fast the riding mower can go. There is a limited range of speed that riding mowers have coming out of the factory, but within that range some mowers are faster than others. You might not think so, but when top speeds are less than ten miles an hour, a few extra mph can significantly cut down on the amount of time you spend cutting your lawn. Of course, there's also a culture of riding mower enthusiasts know that their machines can be modified to be much faster for amateur races, but to do this properly, you also need a good engine under the hood!
Pay attention to the manufacturer of the engine: top quality brands have names like Briggs & Stratton, Kawasaki, Kohler, and Honda. But beyond that, it is a good idea to familiarize yourself with engine specifications. You probably already know what horsepower is; riding mowers should have HPs of at least 18 or 20. But also look at torque and displacement, which are also important indicators of how much power an engine is producing. In both cases, more is better. If possible, find a riding mower with excellent fuel efficiency that does not produce too many emissions.
1c. Comfortable Design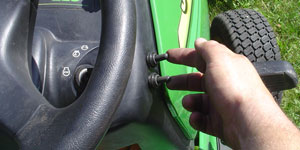 It almost goes without saying, but with a lawn tractor or riding mower, what you are ultimately shopping for is a vehicle. And in any vehicle, whether it is recreational or commercial, you want to ride in comfort. There are a number of different design features that will all influence the amount of comfort and convenience that you will be riding in. Some of them are major components, while others are little deign notes. First among them, of course, is the operator chair.
There are plenty of different operator chairs from one riding mower to the next, and certain seemingly minor features can make a big difference in how comfortable they are. Some chairs have special backs that provide extra lumbar support, and anyone who has ever had back pain will know how important this is in preventing and mitigating it. Higher seat backs are almost always better, in my opinion, although some readers may like different styles. I always prefer my operator seat to have nice long armrests. When you are cutting a big job and will be on the mower for a while, having that kind of support is always nice.
A lot of companies throw the word "ergonomic" around somewhat carelessly, so don't think as soon as you see it that they have actually designed a cockpit and operator chair that will provide the kind of support you need. If you can, find out how deep the padding on the chair is, exactly how tall the seatback is, and what kind of padding or grips the steering wheel and other controls have. Truly ergonomic cockpits will have features that are instantly recognizable as such.
A lot of what makes a riding mower comfortable to operate comes down to the little details. A cup holder is always a plus; if you're like me, you like to have a nice big bottle of cold water available when you are out working in the hot sun, and in all seriousness, keeping hydrated is very important when you're doing yard work. An open cockpit that is easy to step through makes mounting and dismounting the riding mower a lot easier. Controls should be easily in reach of the operator. A storage compartment for extra tools is always a plus, and so is an onboard electrical outlet for running trimmers or other equipment off the riding mower's power.
1d. Manufacturing Quality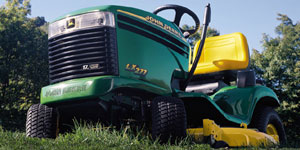 This can be a difficult characteristic to put your finger on. So many things go into the overall quality of one particular riding mower over another that it can be very hard to tell whether one is actually better than the other. But there are a few important design and manufacturing decisions that a riding mower company can make that go a long way to show whether they are interested in making quality machines or just selling cheaply made junk to consumers who do not know what to look for. Pay attention to these features and you won't be caught with an overpriced piece of machinery that has a short lifespan.
The cutting blades should be made out of hardened steel. If possible, heat-hardened or welded steel is the way to go. Any other material is an indication that there are going to be serious problems with not only the cutting deck but the rest of the riding mower as well. The cutting blades are the primary operating part on the riding mower – they're the ones that do all of the work of cutting the grass – and you want blades that are going to stand up to tough, dense grass over the long term. I can't stress enough how important it is to make sure the blades on your riding mower are high quality. There is nothing worse than investing a lot of money into a new riding mower only to have it get bogged down by dense grass or unable to cut tougher varieties at all.
The other components of the riding mower should also be made of steel wherever possible. Welded steel is always going to be more durable over the long term than stamped steel, but the latter is pretty tough as well. While machines made with welded steel tend to run a bit more expensive than those made of stamped steel, the extra expense is well worth it: they will not get dented or dinged as easily if you happen to graze a wall or back into a tree, and their total lifespan is longer. Lastly, make sure the tires on the riding mower are made of solid material. Pneumatic tires are by far the best; they hold their tire pressure a lot better than other tires. They are tougher and can handle uneven ground and rough terrain a lot better, than other tires can as well.
1e. Other Considerations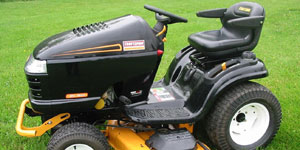 There is a mishmash of other important design features that do not fit neatly into any of the above categories, but that does not mean they will not have major effects on the overall ease of operation and grass cutting experience a riding mower provides. These machines can be versatile yard and garden work horses if they are designed properly, so it is important to pay attention to all the different aspects of what they can do. These features include grass management options, safety features, and accessories like tow hitches.
One area in which riding mowers are not consistent is in grass management options. Some riding mowers only provide a single grass management option – side discharge. If all you care about is getting your grass cut, and you do not have a problem leaving clippings on the lawn, then side discharge will be fine for you, and finding a machine with only this option can save you a bit of money. But if you are like me, you want a few options for what to do with your clippings.
A lot of riding mowers these days provide a mulching plug that keeps clipping under the cutting deck, where they are chopped up into tiny pieces that will break down more quickly into the soil, releasing vital nutrients and keeping the lawn looking lush and verdant for free. And some riding mowers also come with a rear bag attachment for collecting clippings for disposal or composting.
Safety features are also an important area to consider. A riding mower is a big, powerful machine, and you want to take precautions to protect yourself while you are using it. By all means try to find one that comes with a seatbelt. Blade interrupters that shut off the cutting deck while reversing are highly recommended. And child-proof starter switches are a must if you have small children.
If you're looking for a riding mower with a lot of extra accessories, you should familiarize yourself with the difference between riding mowers and lawn tractors. Lawn tractors, unlike riding mowers, are specifically designed to do a range of different tasks, and so they have a lot of extra accessories like a tow hitch, optional trailers, aerators, lawn sweepers and even snow plows. For simply mowing the suburban lawn, a regular riding mower is fine, but if you want to get more serious about general landscaping and gardening, take a look at lawn tractors.
These are the 8 best riding lawn mowers based on product quality, customer satisfaction, and price: