This website is reader-supported. When you buy through links on our site, we may earn an affiliate commission.
Electric Lawn Mower Reviews

Best Overall

Best Mid-Range

Best Inexpensive
These are the 10 best electric lawn mowers based on product quality, customer satisfaction, and price: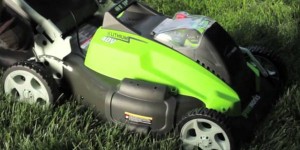 Electric lawn mowers are the third generation of walk-behind lawn mowers.
When having a beautifully manicured lawn was just beginning to be a thing, people were using reel mowers. Then, with the development of gas-powered motors, gas lawn mowers became mainstream.
Recently, people have become more aware of the downsides of using a gas-powered lawn mower. High emissions, noise pollution and complicated maintenance became real issues for some of us.
And so came an alternative to these 2 generations of old-fashioned lawn mowers: walk-behind electric lawn mowers.
The best electric lawn mowers offer a lot of advantages over previous generations of lawn mowers: zero direct pollution emission, low noise, easy maintenance…
There are 2 types of electric lawn mowers: corded and cordless. Corded electric lawn mowers needs to be plugged into a socket at all times, and cordless electric lawn mowers are operating with high performance batteries giving you a lot more freedom in terms of movement around your yard.
Lately another improvement for electric lawn mowers has appeared: self-propelled mowers. It means that you don't even need to push hard behind your lawn mower to make it go forward. The wheels are powered with electric motors allowing the lawn mower to move on its own.
1. Electric Lawn Mower Selection Criterias
1a. Grass Clippings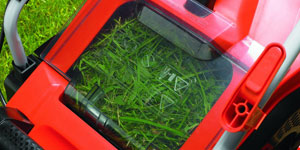 Do you want to mulch, discharge or bag your grass clippings?
Managing properly your grass clippings is an essential step when it comes to having a well-maintained lawn.
Having a mower that gives you several possibilities to handle grass clippings is not a luxury anymore with modern lawn mowers.
1b. Self-Propelled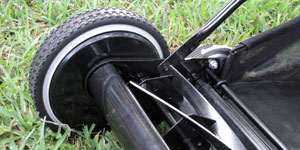 As I was telling you before, if you have a hilly yard or a big yard, you should consider a self-propelled lawn mower. With this type of lawn mower, a part of the energy is sent to the 4 wheels to help you move around with the lawn mower.
With the most recent models, you can even decide if you prefer a rear wheel drive or a front wheel drive. This allows you to adapt the mower depending on your needs. Rear wheel drive will give you the needed power to motion through hard slopes, while the front wheel drive will let you move easily around flat areas.
On the downside, keep in mind that self-propelled lawn mowers will usually weight more than their human-propulsion counterparts. Moreover, using a self-propelled mower will drain the batteries faster.
1c. Speed Adjustment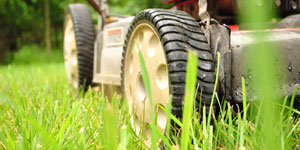 There are 2 types of speed adjustments that you should consider when choosing a new lawn mower: self-propelled speed adjustment and blade rotation speed adjustment.
The self-propelled speed adjustment is essential since it allows you to adapt the lawn-mower movement speed to match your walking pace. You can slow it down when going up slopes and speed up on flat areas.
Blade rotation speed adjustment is extremely important when you have uneven terrain, grass type, or if you might have to mow wet grass. Being able to push the rotation speed higher is essential to easily go through rough grass patches, high grass or wet areas.
1d. Cord / Cordless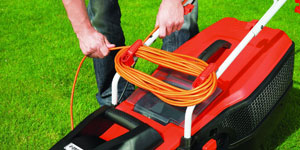 I explained before that modern electric lawn mowers can either operate on batteries or through a power cord.
If you have a small or moderate lawn, a small electric lawn mower with a cord can be a good option; it will also cost you less money but make sure that you don't buy a cheap electric lawn mower that will be broken in no time. On the other hand, if you have a big lawn, you should consider buying a battery powered lawn mowers. It will be more practical than having to carry an endless power cord around with you.
1e. Warranty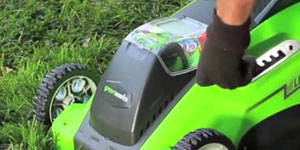 The last thing to consider before buying an electric lawn mower is the warranty. Pay attention to the mower's user manual. It will give you valuable information to understand what the warranty covers.
Some of the mower's accessories might not covered by a limited warranty. Most of the time, only the frame and motor of the lawn mower are covered by the extended warranty.

The Greenworks 25022 is a plug-in electric lawn mower with a twenty inch wide cutting deck. That width is bigger than what is available on most similarly priced electric lawn mowers, and it's comparable to what is available on many gas powered lawn mowers as well. The Greenworks 25022 has a number of other excellent [...]

The Black & Decker MM875 is a plug-in electric lawn mower with a 12 Amp motor. The motor provides enough power to drive a nineteen inch wide cutting deck. That makes the cutting deck on the Black & Decker MM875 one of the widest you can find on an electric lawn mower today. A wider [...]

The Black & Decker CM1936 is a great lawnmower that significantly reduces the time and energy you will spend mowing your lawn. It has a motor that is extremely efficient and quite powerful for an electric mower, and a nineteen inch deck size, which means it will cut your lawn in fewer passes than smaller [...]

The Black & Decker CM1836 takes a lot of the hassle out of mowing your lawn. It has very efficient motor and a blade that has been improved since the CM1000 to provide a cleaner cut. The battery can mow a lawn that is up to 1/3 of an acre on just a single charge. [...]

The SPCM1936 is so easy to use and does such a professional job you'll find yourself actually begging your grass to grow. No more pulling a muscle trying to start the engine. Just a turn of the key and a push of a button and it starts every time. Once started you'll do a [...]

Best Overall

Best Mid-Range

Best Inexpensive
These are the 10 best electric lawn mowers based on product quality, customer satisfaction, and price: