This website is reader-supported. When you buy through links on our site, we may earn an affiliate commission.
Gas Lawn Mower Reviews
These are the 10 best gas lawn mowers based on product quality, customer satisfaction, and price: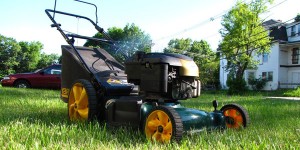 Gas-powered lawn mowers are the most commonly used mowers these days. They operate with 2-stroke or 4-stroke gasoline engines.
Gas lawn mowers have been used for so long that they have been optimized for maximum power and efficiency. The biggest advantage of buying a gas lawn mower is simple: it's more economic than electric lawn mowers.
The only lawn mowers that are more economic than gas-powered lawn mowers are reel mowers. However, reel mowers might not be a possibility for you if you have more than a small lawn. If that's the case, you should seriously consider gas lawn mowers.
These lawn mowers have the major advantage of being able to handle any type of lawn and any size of yard. But it comes at a cost: the gasoline-powered engine will make it more complicated to maintain than other types of lawn mowers.
Gas-powered lawn mowers can easily mow huge lawns, you might just need to add more gasoline in the tank, but contrary to electric lawn mowers, you won't have to wait for some electric batteries to get charged.
Similarly to electric lawn mowers, gas-powered lawn mowers come either as push mowers or self-propelled mowers. Navigate through our gas lawn mower reviews to find the perfect model that will fit your needs.
1. Gas Lawn Mower Selection Criterias
1a. Engine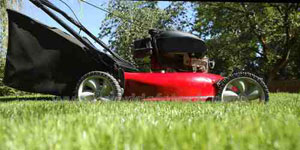 When you select your new gas lawn mower, it's important to pay attention to the mower's engine. You will most likely have a choice between 2 stroke engines and 4 stroke engines.
Some of these engines will deliver more torque but they will use more fuel to operate. Keep in mind that these mowers will also generate more noise.
No matter which type of mower's engine you select, you should always choose an engine with an OverHead Valve (OHV) which will be easier to maintain in the long run.
1b. Starting System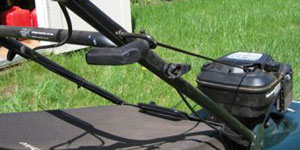 Historically, gas lawn mowers were built with a recoil starter. With this type of starter, in order to power up your gas lawn mower, you have to pull a rip cord. This system requires some effort and it can be difficult when it doesn't start on the first try.
Recently, constructors started building gas lawn mowers with electronic push-button starters. These electronic systems make the process of starting your lawn mower completely painless.
1c. Self Propulsion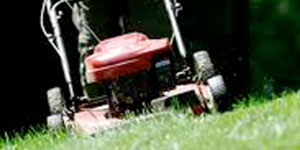 The most common gas lawn mowers are push mowers, but some self-propelled gas lawn mower are also available nowadays.
If you go for a push lawn mowers, keep in mind that you'll be the driving force of your lawn mower and you'll need to be able to push its weight around your yard. Self-propelled lawn mowers require a lot less effort, but it comes with a higher price tag.
1d. Blade Override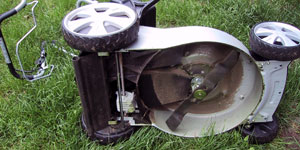 You should never forget that operating a lawn mower without the proper care can be very dangerous. To make sure the risks are minimal, there are several safety features available on modern lawn mowers.
Blade Override (also called Blade-Brake Clutch System) is absolutely essential if you want to avoid accidents with your lawn mower. A Blade Override system can increase the price of your future lawn mower but in my opinion, safety always comes first.
Blade Override will make sure that the cutting blade is completely stopped in case of a sudden obstruction of its path, uneven movement or if you let the handle go. This system works by turning off the power path between the engine and the blade in hazardous situations.
1e. Swivel Front Wheels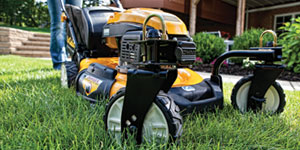 On most gas lawn mowers, wheels are on a static axis that allows them to roll only forward and backward. With these traditional wheels, you have to lift the front of your lawn mower when you want to turn around.
A few gas lawn mower models are equipped with swiveling front wheels for optimal maneuverability. These front wheels allow you to make turns whenever you want, making your task a lot easier when it comes to avoiding rocks, trees, flowers and plants.

The Yard-Man 12A-B29Q701 is a self propelled lawn mower with a Honda GCV160 ARCS engine and a 21 inch cutting deck. The self propulsion system is a front wheel drive, which will help to take a lot of the work out of keeping a large lawn looking great. The majority of the effort needed to [...]

The Yard Man 11A-B29Q701 is a gas powered walk behind lawn mower designed to provide reliable power for smaller residential jobs. With a 21 inch wide cutting deck and a Honda GCV Auto Return Choke System Series engine designed to provide more horsepower and a longer life, this mower has what it takes to get [...]

Husqvarna 7021R is a gas powered lawn mower that is a class apart from a lot of what is available these days. It has a powerful, well designed engine under the hood that drives both a self-propelled rear wheel drive and a cutting deck that has a high degree of torque and tip speed. That [...]

Yard-Man 12AVD39Q701 is a lawn mower made by a company that knows its stuff – so you can count on it to provide everything it takes to make your job a lot easier. It is packed with the kind of outstanding features that will make sure you get a professional looking finish on your lawn [...]

The Poulan Pro PR625Y22RKP is a gas powered walk behind lawn mower with a best in class Briggs & Stratton 625e Series engine that has a displacement of 190 cubic centimeters and provides 6.25 foot pounds of torque to the machine. This is enough power to drive the cutting deck at the kind of high [...]
These are the 10 best gas lawn mowers based on product quality, customer satisfaction, and price: