This website is reader-supported. When you buy through links on our site, we may earn an affiliate commission.
Best Gas Lawn Mower
These are the 10 best gas lawn mowers based on product quality, customer satisfaction, and price:
I think that it is a fair statement to say that everyone loves the smell of freshly cut grass.
This is one of my favorite parts of summer, and like many other homeowners, I love not only the smell of a freshly cut lawn, but the look of it too.
A lawn that has been cut to the perfect height is really beautiful in a simple way, and with its neat lines and soft green colors, it can be really quite inviting. Summer in America is largely spent on our lawns, playing with our kids, relaxing on comfortable reclining chairs, and of course having friends over for grilling and drinks.
Cutting the grass is not a simple task, as anyone who takes lawn care seriously knows. That is probably why lawn care and grass cutting services are one of the largest small business sectors in the country – many Americans feel that they have to turn to professionals to get their lawn looking its best. But as many of us know, this is not the case. While I certainly do not want to put my landscaping friends out of business, the real truth is that with the right lawn mower, any homeowner can have their lawn looking like it was manicured by a pro.
To get that done, though, you need a lawn mower that is going to provide the kind of power needed to reliably cut all kinds of grass, not get slowed down by denser patches in the lawn, and never miss a single blade as it cuts. If you have a larger lawn, you are going to need a lawn mower that has the kind of range and durability to reach all four corners of the yard. And if you live in a region of the United States where varieties like St. Augustine and Bermuda grass are more common, you want to make sure your lawn mower can stand up to them every time.
What this boils down to, then, is that the best lawn mowers for getting big, tough jobs done right are gas lawn mowers. Sure, they might be a little on the noisy side, and they are not exactly the most environmentally friendly options out there. But sometimes you have to make a decision: do you want the kind of reliable power and performance that will keep your lawn looking beautiful year after year, or do you want to be struggling with a weaker lawn mower that will not be able to get the job done?
If you have a big lawn or tough grass, I think the choice is pretty clear. But there are a lot of different kinds of gas lawn mowers out there, and it can be hard to figure out which one is the best for you. There are a number of fairly basic criteria that you can apply to your search for the best gas lawn mower that will help you weed out the good from the bad, and ultimately find the best.
1. Best Gas Lawn Mower Characteristics
1a. Engine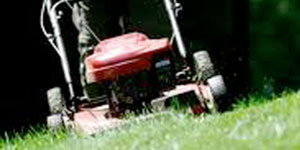 You are looking for a gas lawn mower for one major thing: the power it is able to provide. And where does that power reside? In the engine, of course. Not all gas powered engines are created equal, though. There are different engine manufacturers, and each of them approaches small machine engine design and manufacturing slightly differently. Then there are different styles of engine – do you want a two cylinder or a four cylinder? Is an overhead valve or side valve best? And what about considerations like horsepower, torque, and displacement? You may recognize some of these terms, and others may be unfamiliar to you. But they are all pretty straightforward. And once you understand them you will be well on your way to becoming an expert in small machine engineering.
First, a brief word about manufacturers: while I don't endorse any particular brand, I will say that there are a few small engine manufacturers who have a great reputation for always producing very high quality products. At the top of any list would have to be Briggs & Stratton, Kawasaki, Honda and Kohler. These four are some of the oldest and most trusted manufacturers in the industry, and there is good reason for that: they are always producing innovative designs and looking to further improve the overall market.
Now, there are a few engine features that are important to familiarize yourself with so you can make a quick and accurate judgment as to a unit's ability. Horsepower is a general (and probably familiar) unit of measurement that rates the overall power of the engine. Displacement is a measure of how much volume the pistons in the engine are moving. Higher displacement means higher power output, and is measured in cubic centimeters. Torque measures the angular force the engine produces on one cycle, and it is measured in foot pounds. More torque also means more power.
There are a few different styles of small engines: they can be two-cycle or four-cycle, and have overhead valves or cam valves. Most small engines have overhead valves, because this design is more compact and has less working parts that can break, although it is also noisier and generally produces higher emissions than cam valves. Two-cycle engines generally produce more power in a smaller, lighter space than four-cycle engines, but similarly to OHV engines, they are noisier and less fuel efficient than four-stroke engines.
1b. Cutting Deck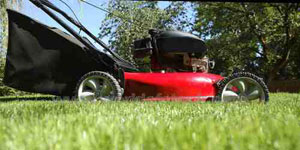 Gas lawn mowers are not the superior choice just because they have powerful engines, however. It's also because of what that power can support in the rest of the machine – and first on that list is the cutting deck. Because of their excellent power, gas lawn mowers have the biggest, toughest cutting decks of any walk behind lawn mowers on the market today. And in order to make sure your lawn is kept beautiful and looking like it was professionally cut, you are going to want a big, heavy duty cutting deck on your lawn mower.
The cutting decks on walk behind gas lawn mowers range from about 18 to 24 inches on average, although there are models that do have wider decks. A wider deck is important especially if you have a big lawn to cut because they help to reduce the total number of passes you have to make in order to finish the job. While an extra six inches may not seem like much on an already wide cutting deck, those inches add up pretty quick. In just three passes with a gas lawn mower that has a 24 inch cutting deck, you have already cut down the total number of passes you have to make by 25% as compared to a mower with an 18 inch cutting deck.
On wider lawns this continues to increase as you make more passes, and those six inches can wind up saving you a half an hour or more. That is less time you have to spend just mowing the lawn, and allows you to finish other lawn care chores like fertilizing and seeding bald spots, edging and trimming, applying weed killer and watering. This is the kind of efficiency that will help you have one of the most beautiful lawns in the neighborhood, to the point that your neighbors will be asking for the business card of your landscaper. They will be surprised to know that you are doing it all yourself.
One word of caution: consider the engine and cutting deck together. Do not just go out and buy the gas powered walk behind mower with the biggest deck you can find. You want to make sure that it has an engine that can support it and an overall design that is efficient and thoughtful. Otherwise you could wind up with a big deck that does not have enough power to get through dense grass or tougher varieties of grass.
1c. Materials & Design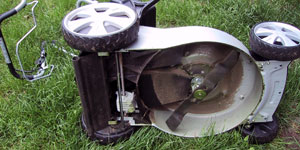 When you have narrowed down your search for a new gas lawn mower to several that have wide cutting decks and the kind of solid, heavy duty engines that can support them, there are a few important things to take into account that will be strong indicators of the overall quality of the machine. This will determine how well it will perform over the long term and how well it will hold up to wear and tear. That is especially important when you have a very big lawn, particularly when it is on uneven or rolling terrain, and also if it is planted with tougher varieties of grass and has dense patches.
The materials the gas lawn mower is made from are very important to its overall quality. A lot of the time, manufacturers who are not interested in providing quality machines to their consumers will drop a big engine into the chassis, widen the cutting deck and call it a day. They will slap small plastic wheels on the lawn mower and make the body and handle out of the cheapest materials possible. You can tell if a lawn mower is made from quality materials by checking a few basic things.
First, the wheels: it is always better if the rear wheels are at least 1.5 times as high as the front wheels, as this increases the lawn mower's overall stability considerably. On small lawn mowers, plastic wheels can be sufficient, but on big, heavy lawn mowers – especially those that you are going to be using for big, tough jobs – you are going to want something more heavy duty. Solid rubber tires are more durable and will last longer. Try to find ones with deep treads for more traction.
The fittings and connections on the lawn mower should be made of threaded metal with real nuts and bolts where possible. Wing nuts are not bad, but they are also not the best. And plastic screws or bolts are a sure sign of poor quality craftsmanship. Then, look at the big picture: what the body and deck are made of. The cutting blade should be made of hardened steel with a high gauge for best results. And the body should be made of stamped steel at the very least. I do not recommend settling for plastic bodies. They not only hold up poorly, they're also indicative of general lack of concern for the quality of the mower.
1d. Ease of Use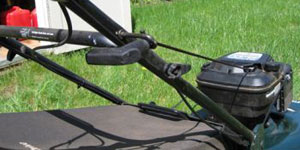 There is a lot that goes into how easy a particular lawn mower is to use compared to others, so this is not as easy a characteristic to neatly pin down like the deck size or engine quality. But there are a few things you can keep an eye out for that will determine how enjoyable the overall mowing experience is and particularly how much effort you have to put into getting a professional looking cut for your lawn.
The size and weight of the gas lawn mower are two important considerations that will affect how easy it is to use. Gas lawn mowers tend to have fairly big overall footprints, in part because their cutting decks are around two feet wide and in part because they support large combustion engines. While this is common, some models have larger footprints than necessary. A lawn mower with a big footprint is going to present issues in terms of how much space it takes up in your garage and how wieldy or unwieldy it is in tight spaces on your lawn.
Try to minimize the overall size relative to the cutting deck width. Gas lawn mowers also tend to weigh between 50 and 75 pounds. Lighter ones, of course, will be easier to maneuver around your yard, especially if you are an older person or do not have the strength level required to handle a big, heavy machine. You want it to be tough, and made of solid materials, but you do not want it to be needlessly heavy.
Machines that are self-propelled with independent rear wheel drives can be much easier to use than push mowers in most cases. If you are looking for a self-propelled gas lawn mower, I highly recommend finding one with a rear wheel drive, especially if your lawn has an incline; it will be much easier to get it up hills and over rolling terrain. And try to find one with at least four forward speeds. You do not want to invest in a self-propelled gas lawn mower only to find that it goes to fast for you to keep up with it or too slow to cut a big lawn efficiently. Finally, the wheel adjustment should be as easy as possible. That includes having a wide range of heights for your wheels, several options within that range, and if possible a single-point or one-touch adjustment system.
1e. Other Considerations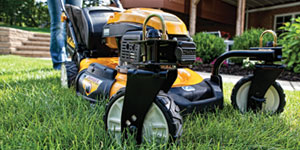 There is a hodgepodge of other minor characteristics that will make all the difference between a gas lawn mower that has them and one that does not. Of course, the preceding sections cover the most important aspects of a gas lawn mower, but once you have managed to find two or three units that have comparably powerful engines, wide decks and quality design, the final decision is going to come down to the finer points.
One of the most obvious is the kind of grass management options each mower offers. The most basic grass management option is one where the lawn mower simply discharges clippings out the side of the cutting deck. With this option you either have to rake up clippings by hand or wait for them to dry and use a leaf blower or else leave them where they lie. They will eventually break down, but can leave your lawn looking messy in the meantime. The other options for grass management are mulching plugs and rear bag attachments.
Mulching plugs also leave clippings in the lawn, but they cause the cutting deck to chop them into very fine pieces that will fall down between grass blades and break down much more quickly than larger pieces. This can be a great way to improve the quality and appearance of your lawn without too much effort or having to use chemical fertilizer. The rear bag attachment will collect clippings for you to dispose of or compost later. But make sure the mower you are choosing has a sufficiently large rear bag to hold all of the clippings a big lawn will produce.
Safety features, noise level, and emissions are three other features that are important to look at on a gas lawn mower. You should make sure that there is some sort of safety key for starting up the mower that is childproof. Preferably the cutting deck should disengage if you let go of the clutch to prevent accidents. The noise level on gas lawn mowers is always an issue, but if you can find one that minimizes it – either because it has a quieter engine or because the engine is inside the body rather than exposed – your neighbors will thank you.
Emissions levels will determine not only the amount of fumes in your yard after you have cut the lawn but also whether your mower is CARB compliant. Gas powered engines that produce higher emissions than the California Air Resources Board allows are not available for purchase in that state or fourteen others. Finally, check the starter system on the lawn mower. A gas mower with an electric starter button will save you a lot of effort, and your shoulders a lot of soreness.
These are the 10 best gas lawn mowers based on product quality, customer satisfaction, and price: