This website is reader-supported. When you buy through links on our site, we may earn an affiliate commission.
Reel Mower Reviews

Best Overall

Best Mid-Range

Best Inexpensive
These are the 10 best reel mowers based on product quality, customer satisfaction, and price: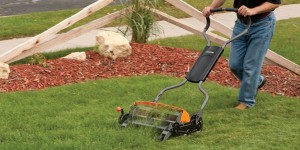 Reel mowers, also known as cylinder mowers or push lawn mowers, are the historical type of lawn mower. The structure of these mowers has not evolved much since the first model was invented in 1827.
These lawn mowers operate by transmitting the power from the wheels to the cutting cylinder ("reel"). As you push the lawn mower forward or backward, the movement is converted into energy that rotates the blades inside the cutting cylinder.
The key to efficiently mowing a lawn with a reel mower is to walk with a decent pace. If you don't walk fast enough, the blades won't have enough momentum and the rotation won't be enough to efficiently cut through the lawn.
Reel mowers are the most eco-friendly lawn mowers available on the market since they don't require any power source to operate. The downside being that if you have more than a small yard, it will take a lot of effort to mow everything.
Since reel mowers are the historical lawn mowers, there are countless models available. I've decided to select the best model to save you a lot of time. Navigate through our extensive reel mower reviews to find the perfect reel lawn mower for your garden.
1. Reel Mower Selection Criterias
1a. Weight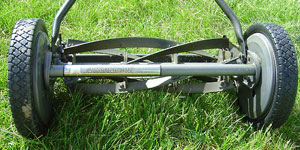 The weight of your reel mower is the first aspect you should consider for 2 reasons:
You are the one providing the horse power for your reel mower, so if you pick a mower that is too heavy, mowing your lawn will be a very exhausting task. If your lawn is too big or too hilly, it might become quite a painful experience.
Keep in mind that a reel mower will perform at its best when it has a decent weight. If you pick a reel mower that is too light, you might have trouble cutting through the thickest grass.
Selecting a reel mower with the right weight is all about balance between what you can actually push and how well you want it to perform.
1b. Height Adjustment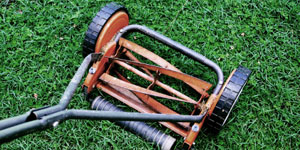 Whereas the oldest models of reel mowers were as technically simple as possible, recent ones offer you the possibility to adjust the cut height.
The height adjustment is not reserved anymore to the more sophisticated electric lawn mowers and gas lawn mowers. Now you can also decide how short you want to cut your lawn.
This setting will allow you to manually set the height of your lawn based on your preference and on the grass variety.
1c. Ease of Use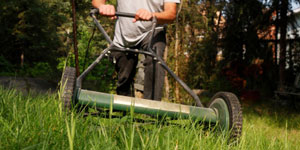 As I explained before, reel mowers are the historical lawn mowers: it seems that they've been around forever. The problem is that some of these mowers have not evolved much since their early days, and while their design can prove to be effective at cutting grass, they might not be the easiest to use.
Always remember that you will be the one delivering the power to make your reel mower move forward and you will most likely prefer a reel mower that's easy to use.
When selecting your reel mower, make sure it's not too hard to push around and that it's rotation system that converts forward-motion power into rotation power is highly effective. The last thing you want is a reel mower that is too hard to push around.
1d. Cutting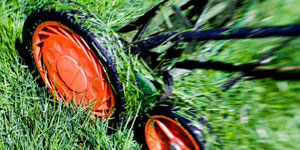 Reel mowers are not all equals. As simple as they may seem, some of them just won't have enough power to cut through the toughest indigenous grass types that you have in your lawn.
Some reel mowers are not good at all for thicker grass species. As a rule of thumb, keep in mind that the larger the deck of your reel mower, the most likely it will be able to cut through dense grass.
1e. Edging & Landscaping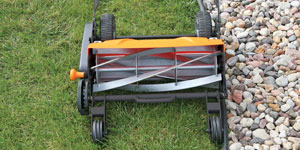 Historically, the reel mowers were all designed in the same way: some big wheels in the front, and the cutting cylinder right behind them. The big problem with this design is that it prevents you from edging because of the wheels in the front.
Some recent models inverted the way things work by placing the cutting cylinder in front of the wheels, giving you more control over the area you're cutting and allowing you to be more precise. As a result, you can properly cut on the edges of your lawn.

The Fiskars 6201 Stay Sharp Max push reel mower has an eighteen inch wide cutting deck, which makes it one of the bigger reel mowers out there today. It is designed to be 60% easier to push than other mowers because of its innovative Inertia Drive, and the reel delivers twice as much power as [...]

The Fiskars 6208 is a manual push reel mower with a cutting reel that is 17 inches wide. The wider cutting blade means this mower will be able to cut your lawn in fewer passes. This lawn mower can cut the same size lawn as a reel mower with a twelve inch cutting reel in [...]

The Scotts 2000-20 is a manual reel lawn mower with overall dimensions of 28 x 18 x 10 inches and a cutting blade that is 20 inches wide. That makes it one of the widest manual reel mowers available today, and it packs that cutting width into a fairly compact package. A wider cutting reel [...]

The Greenworks 25052 is a manual reel lawn mower with a sixteen inch wide cutting reel. The cutting reel has five durable blades made out of hardened steel that will last longer without needing to be sharpened. Reel mowers such as the Greenworks 25052 are the only option for lawn management that are completely emissions [...]

The American Lawn Mower 1705-16 is a manual push reel mower designed specifically to cut creeping and low growing varieties of grass such as centipede grass. It has several height settings between 1/2 an inch and 2 1/4 inches, so on its lowest setting it can have your lawn looking like a putting green. The [...]

Best Overall

Best Mid-Range

Best Inexpensive
These are the 10 best reel mowers based on product quality, customer satisfaction, and price: