This website is reader-supported. When you buy through links on our site, we may earn an affiliate commission.
Commercial Pressure Washer Buying Guide

Best Overall

Best Mid-Range

Best Inexpensive
These are the 7 best commercial pressure washers based on product quality, customer satisfaction, and price: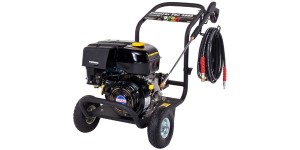 Commercial pressure washers are the biggest and most powerful cleaning machines money can buy these days. And whether you own your own small contracting business, or are a landscaper, or if you just want to have a powerful pressure washer in your garage for your own residential use, a commercial pressure washer is definitely the best way to go. These pressure washers are able to provide the kind of extremely high pounds per square inch and flow rates that can deal with just about any cleaning job. Their PSI is strong enough that it can strip paint from walls, so you can be certain that it will be able to knock tough stains and dirt from any surface you might find it on.
Commercial pressure washers can provide sprays of water that have pressures of well over 3,000 pounds per square inch, but there are also commercial models available that are more compact and lightweight and have slightly lower PSIs. But do not be fooled by the fact that they are smaller than the biggest commercial pressure washers – these models still pack the kind of cleaning power that you need for just about any job. Commercial pressure washers can also provide sprays that are mixed with strong detergents and chemical solvents to deal with tough stains that are not water soluble, and they can provide hot water sprays for cleaning a variety of different surfaces quickly and efficiently.
If you are getting a job site ready for painting or remodeling projects, there is often a lot of prep work involved: you have to remove old paint, which can take hours or even days if you are doing it by hand with a scraper. You often have to knock out walls and remove joists, which leaves a huge amount of plaster dust and other dirt behind that can be difficult to clean up, even if you are using a shop vac to do it. In these and plenty of other situations, the cleanup process can be finished much more quickly just by using a commercial pressure washer. This can save time as well as labor costs, and have you and your crew getting on with the more important parts of the job as much as a day or two ahead of schedule.
There are a number of different kinds of commercial pressure washers out there, and these can seem like rather complicated machines. It is perfectly normal for consumers to feel a bit overwhelmed by not only the variety of commercial pressure washers available on the market but also consider understanding what makes a commercial pressure washer a good buyer's choice rather difficult. But it does not have to be this way. There are a number of buyer specifications that are fairly easy to navigate once you are familiar with them. Once you understand exactly what you should look for in a commercial pressure washer, you will be able to quickly and correctly assess whether one is right for your needs.
1. Commercial Pressure Washer is a Good Buyer's Choice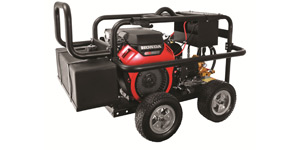 There are quite a few reasons why a commercial pressure washer is a good buyer's choice. This is the case whether you are in the market for a new commercial pressure washer to use for your contracting or landscaping business, or if you just want the most powerful cleaning machine you can get for use around your home. The first reason a commercial pressure washer is a good buyers choice is pretty straightforward: these machines have the highest flow rates and PSIs available on any self-contained pressure washers on the market. The only pressure washers more powerful than these are the industrial kind that are mounted on dedicated trucks or have to be towed on trailers.
Commercial pressure washers have extremely high pressures – they range from about 2500 pounds per square inch and can go all the way up to 3800 PSI or more. When you compare that to a coin operated car wash's pressure hoses, which clock it at no more than six or seven hundred PSI, you can see that this is some very serious cleaning power indeed. Why is all of this extra pressure a good thing?
Well, the extra PSI are important because they allow you to tackle a number of different jobs that residential pressure washers would not be able to handle. With a commercial pressure washer you have a lot more power that can strip paint, deep clean porous surfaces, and work stains out of just about anything you can think of.
This means that you can use a commercial pressure washer on cleanup jobs at work sites as well as around the home. Because they have such high PSIs and flow rates, you can adjust them to deal with tough stains – like grease or oil in your driveway – or dial them back to take care of more delicate jobs – like washing windows or window screens. The higher the PSI and flow rate, the more options you have for the pressure washer.
Commercial pressure washers also are able to inject powerful solvents into the water spray so that you can get tough stains that can't be cleaned with just water alone out of surfaces. While plenty of residential pressure washers are also able to do this as well, they typically just siphon soap from its original container. Commercial pressure washers often have the advantage of carrying more than one reservoir onboard – so you can either carry twice the amount of detergent with you, or two different kinds for approaching different kinds of stains.
You can also get sprays of water that are considerably hotter than anything available on even gas powered residential pressure washers. Residential pressure washers' water temps usually top out at about 180 degrees Fahrenheit, while commercial pressure washers are able to reach temperatures of more than 200 degrees F. The extra heat means that commercial pressure washers will be able to easily cut through tough dirt and grime in mere seconds. You will be amazed to watch it literally melt away in front of the powerful, scalding spray a commercial pressure washer can produce.
The next reason that a commercial pressure washer is a good buyer's choice is because it runs off of an independent power source that allows it to go anywhere you need to take it. You will not be tethered to a power outlet with a commercial pressure washer, and these machines have the kind of substantial fuel tanks that will enable them to run for a very long time without needing a refill. When you are at a remote job site, you want a pressure washer that you can depend on for the long haul. And even if you are using a commercial pressure washer for home applications, you want to be able to move over your entire property with it and not have to worry about getting tripped up by the length of the power cord.
On any job site, whether it is a subcontracting job involving demolition or remodeling, painting or roofing, landscaping or gardening, you are going to need tools that are heavy duty and can stand up to the rigors of serious work. This means that you need a pressure washer that is made out of the kind of quality parts that will not break down or cop out on tough hauls. You also want it to have the kind of tough steel body and roll cage that will protect it from the occasional accidental ding. There is a lot going on at a construction or demolition job, and there is always the danger that someone might accidentally let a piece of building material or a tool drop onto your commercial pressure washer.
When that happens, you want to be able to trust the parts and manufacturing to hold up to the pressure. Smaller residential models, whether gas or electric, are not going to be made out of the same tough parts that commercial pressure washers are made of. Commercial pressure washers can take a lot of abuse and be none the worse for wear for it. It will be ready to get right back to work day after day no matter what kind of situations are thrown at it.
All of these points add up to the overall reason why a commercial pressure washer is a good buyer's guide: these machines are highly versatile. They can adapt to a wide range of conditions, from low level residential use to high intensity construction jobs, and they will be just as comfortable in one as in the other. You can adjust the PSI and flow rate, the temperature of the water spray, and the type and amount of detergent in the spray. This means that you will be able to use your commercial pressure washer to find exactly the right cleaning specifications for any kind of job you could think of. When it comes right down to it, this amazing versatility is precisely why a commercial pressure washer is such a good buyer's choice.
2. Commercial Pressure Washer Buying Specifications
2a. High PSI and Flow Rate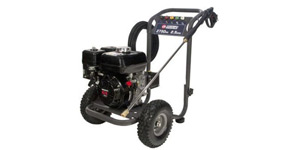 When you are buying a new commercial pressure washer, the main reason to consider one of these models over a less expensive residential grade pressure washer is because of the added power and performance a commercial grade machine can provide you. Because of that, you want to make sure you are getting the most bang for your buck. And that comes down to finding a model that has a high pressure and flow rate.
The pressure and flow rate determine the overall cleaning power of the commercial pressure washer, and they should always be considered in tandem with one another. That is because pressure – measured in Pounds per Square Inch (PSI) alone only determines how much force the spray is hitting the surface with. The flow rate – measured in Gallons Per Minute – determines how wide that spray is going to be.
You want a machine that has a high PSI but also hits the surface with a wide diameter, because this will make it a much more efficient cleaning machine. So when you are comparing models, take the PSI and GPM of each one and multiply them together. This will give you the Cleaning Power, and that is what you should be looking at.
2b. Powerful Engine Made by a Trusted Manufacturer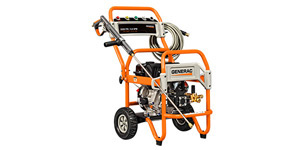 But for your commercial pressure washer to be able to consistently provide that kind of powerful cleaning power, it has to have its pump backed up by a tough, reliable engine. You do not want to be using a machine that does not have the kind of engine that cannot hold up to long term repeated use under tough conditions. You want an engine that will start up reliably and run for hours every time.
The first thing to look at when you are comparing engines in different commercial pressure washers is the manufacturer. If the engine is not made in-house by the pressure washer designer, make sure it is made by a trusted name in the industry like Briggs & Stratton, Kawasaki or Honda.
Then, check out the engine's specs. Make sure its displacement – measured in cubic centimeters (or cc's) is at least 160 ccs. It should also have at least 4 or 5 horsepower (or HP). The engine may be two-cycle or four-cycle; the latter is generally a more powerful design, but it is also a lot noisier and produces more emissions than a two-cycle. If possible, you want an engine that is CARB-compliant so you can use it anywhere.
2c. Quality Parts and Manufacturing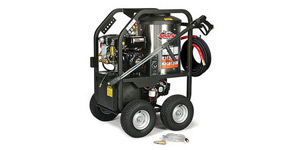 Whether you are looking for a commercial pressure washer to use on a job site or just around the house, you want to make sure it is made of parts that are going to last for the long term and stand up to a variety of adverse conditions without coming out the other end any the worse for wear. You certainly do not want a machine that has flimsy parts and design and will break down as soon as you so much as glance at it. For a machine like this, you want steel.
The body and frame of the commercial pressure washer should be made of durable stainless steel – stamped steel is fine, but welded steel is better. Steel will hold up to any dings or other damage that would ruin a lesser pressure washer for good. The connectors on the commercial pressure washer should all be made of brass. Plastic connectors will not only leak, but they also point to the potential that the manufacturer has cut corners in other areas, as well. The tires should be pneumatic and made of tough rubber. And the hoses should be made of PVC plastic, if not something stronger like woven carbon fibers.
2d. Small Footprint and Lightweight Design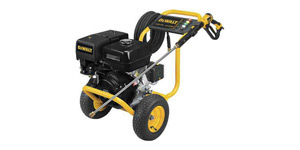 Now, just because your commercial pressure washer is a tough, durable machine that has a powerful engine and can deliver a strong blast of high-pressure water at the touch of a button, it does not mean that it has to be so bulky and heavy that it will be hard to operate it. If you are using it for sub-contracting jobs, you want it to be able to fit in your work truck without crowding out your other equipment. And if you are using it around the home, chances are (if you're like me) the free space in your garage is already at a premium. So try to find a machine that provides high PSI and has a serious engine under the hood but also does not have a very large footprint.
You also do not want your commercial pressure washer to be so heavy that it is difficult to maneuver it around the job site or your yard. Make sure that the commercial pressure washer you are deciding on does not weigh more than you are comfortable pushing around – and this is doubly true if you will be lifting it onto and off of your work truck at job sites.
2e. Thoughtful Details and Convenient Accessories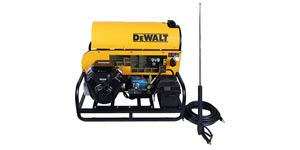 This is the area in which you will determine the ease and convenience of your overall experience using the commercial pressure washer. Power and durability are obviously the most important features on one of these machines. But the small details are going to make the difference between a machine that is enjoyable to use and one that is a chore.
There should be at least one and preferably two reservoirs onboard the pressure washer for detergents. On a commercial pressure washer, do not settle for a siphon tube for detergent. And there should also be a dial that allows you to set how much soap is being added to the spray.
The hose should have a means of winding it up and storing it onboard the pressure washer as well. You do not want to be struggling with untangling the hose every time you use the machine because it does not have a storage reel. And the hose should be at least 25 feet long.
There should be at least a half a dozen PSI options on the spray wand, and they should be fairly easy to switch between. And there should be helpful indicators that tell what the PSI and flow rate are and how much fuel is remaining in the tank.

Best Overall

Best Mid-Range

Best Inexpensive
These are the 7 best commercial pressure washers based on product quality, customer satisfaction, and price: