This website is reader-supported. When you buy through links on our site, we may earn an affiliate commission.
All New Square Foot Gardening, Second Edition GIVEAWAY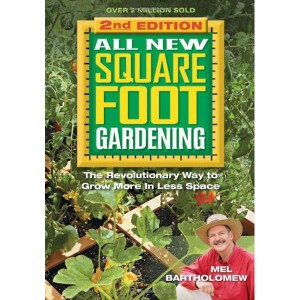 In All New Square Foot Gardening, Second Edition, Mel Bartholomew expands and updates his wildly popular square foot gardening method with new techniques and improvements that will help you learn how to grow an impressive yield of vegetables in a small amount of space. He also includes new discussions on issues that the first edition did not cover, such as proper pest control methods, vertical gardening, and getting kids involved in square foot gardening. The new edition has a clean, updated look and more detailed photographs and illustrations that help to explain the square foot gardening processes better.
Bartholomew originally invented the square foot gardening method with expert gardeners in mind. But he soon realized that while the method is very precise and detailed, it is also quite simple and easy enough for even novice gardeners to understand. The technique allows gardeners to successfully grow a wide variety of vegetables in close quarters, and it eliminates a lot of the inefficiencies of single row gardening. Beginning gardeners as well as experts can use square foot gardening to increase yields and grow more vegetables with less space. In the thirty years since the first edition of Square Foot Gardening was published, millions of readers have adopted this method. The new edition will be useful to experts on square foot gardening as well as readers who have never heard of it.
1. Book Summary
All New Square Foot Gardening, Second Edition is a comprehensive guide to everything you need to know in order to successfully grow a lot of vegetables in a small amount of space. The square foot gardening technique eschews wide rows that are spaced out, and instead intensively plants a raised bed that is divided into one-square-foot sections. The advantages this system offers are less overall workload, minimal watering, easy access to your vegetables, and reduced weeding. There are ten basic rules to square foot gardening, which Bartholomew revisits in the second edition of his book. They are: layout, raised boxes, aisles, soil, grid, care, selection, planting, watering, and harvest.
The layout is the main aspect of square foot gardening that sets it apart from other vegetable growing methods. Bartholomew recommends laying out the garden in squares instead of rows, and arranging it in 4′ x 4′ boxes. Using raised boxes allows you to hold your soil mix above the ground, and spacing them with aisles between them makes them easier to access. The author stresses using a particular soil mix as well as laying down a permanent grid that divides the box into 1′ x 1′ squares. Each square is dedicated to a different vegetable – for example, one square could hold a single tomato plant, while another could have a dozen carrots, and a third could hold a few lettuce heads. The majority of the book – like the first edition – deals with setting up and maintaining a square foot garden.
Additional, new chapters in the new edition discuss other projects, such as vertical gardening, extending the garden beyond the traditional late spring through early fall growing season, and gardening with children, seniors, and persons with special needs. There is also a comprehensive appendix that provides detailed instructions to growing particular vegetables with the square foot method.
2. About The Author
Mel Bartholomew is the inventor of the square foot gardening method, an author of a half a dozen books such as Cash from Square Foot Gardening and All New Square Foot Gardening Cookbook, and the founder of the Square Foot Gardening Foundation. Before he became a gardener, he was a businessman and engineer. In 1975, he retired from his engineering and consulting business in New Jersey and moved his family to a home on the waterfront on Long Island. He spent the first year of his retirement renovating the old house and the second year landscaping and improving the grounds around it. After running out of projects around the house to keep him busy, Mel decided to try out gardening as a hobby.
Because he was new to gardening, he decided to attend a lecture given by a local horticultural group on composting techniques early in the spring of 1977. The scheduled lecturer never showed up, but rather than simply going back home empty handed, Mel suggested that everyone in the group share their knowledge about composting with one another instead. Everyone had a great time sharing tips and tricks with one another and the group learned a surprising amount from the discussion. As they were getting ready to leave, one of the attendees asked if anyone wanted to meet again the following week. As a result, almost by accident Mel's new career as a gardening teacher started while he was still a beginner at gardening.
After a few weeks of meetings, the group decided to start a community garden in a vacant lot in the town. Mel convinced the town to remove the overgrown weeds and put up a fence around the lot, and found a local farmer to deliver two truckloads of well-finished manure. They plowed and fertilized the ground, laid out plots and started planting them. Mel started teaching workshops every Saturday morning, and learned his material through trial and error. But by midsummer, as people drifted away from the community garden, it was overgrown with weeds. As he did research around the community about how to best maintain the garden, he found that many other single-row gardens were also weedy and took a lot of work to maintain.
Mel started to question the efficiency of planting widely spaced rows that were thirty feet long and sparsely planted. He traveled around the country to visit gardening experts, agricultural professors, garden clubs, and gardening writers to try to find answers to his questions. After a lot of research, he realized that the method was used simply because that was how it had always been done. But Mel though that planting widely spaced rows that took up a lot of space and did not produce a whole lot of vegetables was inefficient. He soon hit upon the square foot gardening method, in which a small space is intensively planted to minimize weeds and work.
After working for a few years to develop and perfect the square foot gardening method, Bartholomew wrote the first edition of Square Foot Gardening in 1981. The book was a huge success, and eventually led to a PBS series and several reprints. In 2010 he released a full length companion DVD to the book with Patti Moreno. Mel established the Square Foot Gardening Foundation to teach the method to people around the world. Mel now lives in Utah.
3. About The Book
All New Square Foot Gardening, Second Edition opens with an introductory chapter that discusses Mel's background, how he came to make his discovery of the technique, and where he thinks it is best applied. In the Introduction, he explains why he thought it was time to update and revise the first edition of the book. There are a number of improvements to the square foot gardening technique that he has found over the years, and he thought it was important to write an expanded version of the book that includes the new methods. There are also some additional topics, such as vertical gardening, that he wanted to add to the book.
Chapter 2, SFG, Newer and More Improved, he explains the original square foot gardening technique and explains how he has updated it since he wrote the first book. To build a square foot garden, you have to start by laying it out, then building the boxes, filling them with a special planting mix, and establishing the grid. An important aspect of the square foot method entails growing fewer vegetables all at once, and instead staggering the harvest over several weeks so that you are not overwhelmed with the amount of vegetables you are getting. Instead of getting twenty pounds of carrots at one time, you can time the planting and harvest to get a few pounds a week over a month or two.
Chapter 3, Plan Your Garden, explains how to decide where to put your garden, how to lay out the raised boxes you will be planting it in, and how to set up the planting grid. Unlike traditional row vegetable gardens, which take up so much space that they usually have to be placed far away from the house, at the bottom of the yard, a square foot garden takes up very little space. Because of that, it can be placed close to the house. One of the main advantages of this is that it allows you to interact with your garden more often, which will allow you to take better care of it.
The next chapter, Building Boxes and Structures, explains in detail how to construct a raised planter for a square foot garden. Mel recommends building 4′ x 4′ square beds with three foot rows in between them. This way, you can easily access all the plants in your beds. The boxes are easy to build, even if you are not a handyman. You can build several boxes in just a few hours, since they are simple squares. He explains that you should permanently construct a grid in the box, either with twine or wood slats that lays out sixteen individual squares.
"Mel's Mix" is the particular blend of planting material that he recommends for square foot gardening, and he explains how to make it in Chapter 5. The mix is 1/3 blended compost, 1/3 peat moss, and 1/3 coarse vermiculite. This blend is perfect for a few reasons. The blended compost provides all of the nutrients your vegetables will need in order to grow robustly even when they are planted intensively. Compost tends to be somewhat dense, though, so the peat moss and vermiculite help to make the mix lighter so that it will hold water but still drain well, and have plenty of room for roots to grow.
Chapter Six explains the correct way to plant your vegetables in your square foot garden. In order to provide you with different crops through the growing season, Mel recommends that each one of the sixteen squares be planted with a different vegetable, but if you do not want to do this you don't have to. What is important is that each square is planted to get the most yield of whatever vegetable is growing in it. So for example, bigger plants like tomatoes or peppers will get one square apiece. Vegetables that don't need as much room, like radishes or carrots, can be planted with over a dozen per square.
Once you have your garden planted, there are a few things that have to be done to make sure it grows well and yields a big harvest, and Chapter Seven explains what you need to do. One of the major advantages of the square foot method is that you will not have to do nearly as much weeding as you would in a row garden. The intensively planted vegetables will shade the soil and provide a natural mulch. Watering is also greatly reduced in a raised planter, and the compost in the planting mix all but eliminates the need for fertilizing. If you stagger the planting, you should have a harvest that extends over several weeks or months.
Chapter Eight explains how to build vertical gardens, which are another excellent method for improving the yield from a small area. There are a number of different techniques you can use to build a vertical garden, and he explains each one. You can build a trellis along the north side of a square foot garden for training climbing vegetables like beans, or construct vertical frames with various materials. There are different methods of vertical gardening depending on what vegetables you are growing and how much support they need, and he covers each one in detail.
Mel explains how to extend the growing season beyond the traditional late Spring through early Fall that traditional row gardens are limited by in Chapter Nine. With a square foot garden planted in a raised bed, you can easily extend the growing season by several weeks at the beginning and end. The planters are almost ready made for constructing a square row cover. This allows the sun to warm the soil and nourish the plants while keeping cold air out of the bed. Cold season vegetables such as root vegetables and certain greens can also be planted earlier and harvested later in the season.
Chapter Ten, Special Gardening and Special Gardeners, goes into planting a square foot style garden in nontraditional areas and working with children, senior citizens and persons with special needs. This section is followed by a detailed Appendix that provides a number of helpful tables that detail the spacing per square foot, growing season, weeks from seed to harvest, and other aspects of different vegetables and flowers. There are also detailed discussions of individual vegetables, with instructions on starting, growing, and harvesting each one, as well as what kinds of pests tend to be problematic for each. These discussions also provide overviews on how to prepare each vegetable and suggestions of what kinds of dishes they are best in.
Special Gardening and Special Gardeners is a new chapter in the Second Edition. Readers will especially appreciate this chapter whether they are already familiar with square foot gardening or are new to it, because it expands upon the basic concepts significantly. The first part of the chapter deals with growing vegetables in nontraditional spaces such as apartment balconies and decks, or on railings in small boxes. The techniques that make square foot gardening so successful also help to make gardens work in these spaces as well. The soil mix is perfect for small containers, because it is rich in nutrients and holds water well, and the intensive planting techniques are also well suited to small spaces.
The second part of the chapter talks about gardening with grandparents, senior citizens, children and persons with special needs. Square foot gardens, because they are so accessible and do not require a lot of work to maintain, are excellent for introducing young people to gardening as well as allowing people with special needs, such as blind or disabled people. This section also discusses gardening in schools and establishing community gardens. The square foot method can go just about anywhere, and this chapter explains how you can use it to make gardening accessible to anyone.
4. One Last Word
All New Square Foot Gardening, Second Edition is a wonderful update to Mel Bartholomew's original 1981 book. Not only does it provide a number of updates and improvements on his original square foot gardening techniques, it also has a clean, fresh new look. There are new, beautiful photographs of square foot gardens and lush vegetables grown in them, along with a lot more illustrations that show in detail how to establish and maintain a square foot garden. And additional new chapters that explain how to construct vertical gardens, how to apply square foot gardening techniques to nontraditional spaces, and how to use the method to share gardening with children, seniors and persons with special needs make the book more complete.
Square foot gardening is a revolutionary way to dramatically increase the yields you are getting from your vegetable garden while reducing the amount of work you have to put into it. It is a simple, easy to learn method that will completely change how you grow vegetables. Gardening doesn't have to be a lot of work, and this book shows you why. Whether you are brand new to the square foot gardening technique or have been practicing it for years, the new, expanded edition of Mel Bartholomew's book has a lot to offer.
How To Win This Book
I've purchased 2 extra copies of All New Square Foot Gardening, Second Edition to share with you. To enter the giveaway:
Enter your Firstname and Email,
Reply to a super easy question,
Subscribe to my newsletter (this is where the winners will be announced),
Check your email inbox and click on the confirmation link to validate your entry,
Then you can earn extra bonus entries in the random draw by referring friends to this page (up to 10):
Click on Share This! to get your unique link to share with your friends.
Two random winners will be selected after entries close.
Good luck to all.
You can also order a copy of All New Square Foot Gardening, Second Edition right now.
Please visit this page on a computer or a tablet to access the giveaway. Thank you.